STERLING AUTOMOTIVE FK3
Land Rover Defender Alloy Wheel - 8 x 17"
Sterling Automotive are proud to bring to market our very own Land Rover Defender Alloy Wheel - the FK3In 17", this Defender Wheel epitomises a utility feel. It's rugged looks and practical strength make the FK3 at home in any environment from Off-Road to the streets of any city.
Fits Land Rover Defender Models 1990 - 2016
A dedicated single application design featuring a deep concave and contrasting bezel creates a contemporary expression
Weight optimized architecture with a 1250kg maximum load
Manufactured and engineered in high quality aluminium using the latest technology and finite element analysis software
Designed to accommodate original caps and nuts
Also Available fitted with Davanti TerraToura Tyres as the perfect All Terrain Tyre for Land Rover Defender
TECHNICAL SPECIFICATIONS
Size - 8 x 17"
PCD - 5 x 165
CB 113mm
Offset ET10
Colours - Black Gloss with Diamond Cut / Gloss Black / Satin Black
Designed to Fit Original Land Rover Centre Caps and Wheel Nuts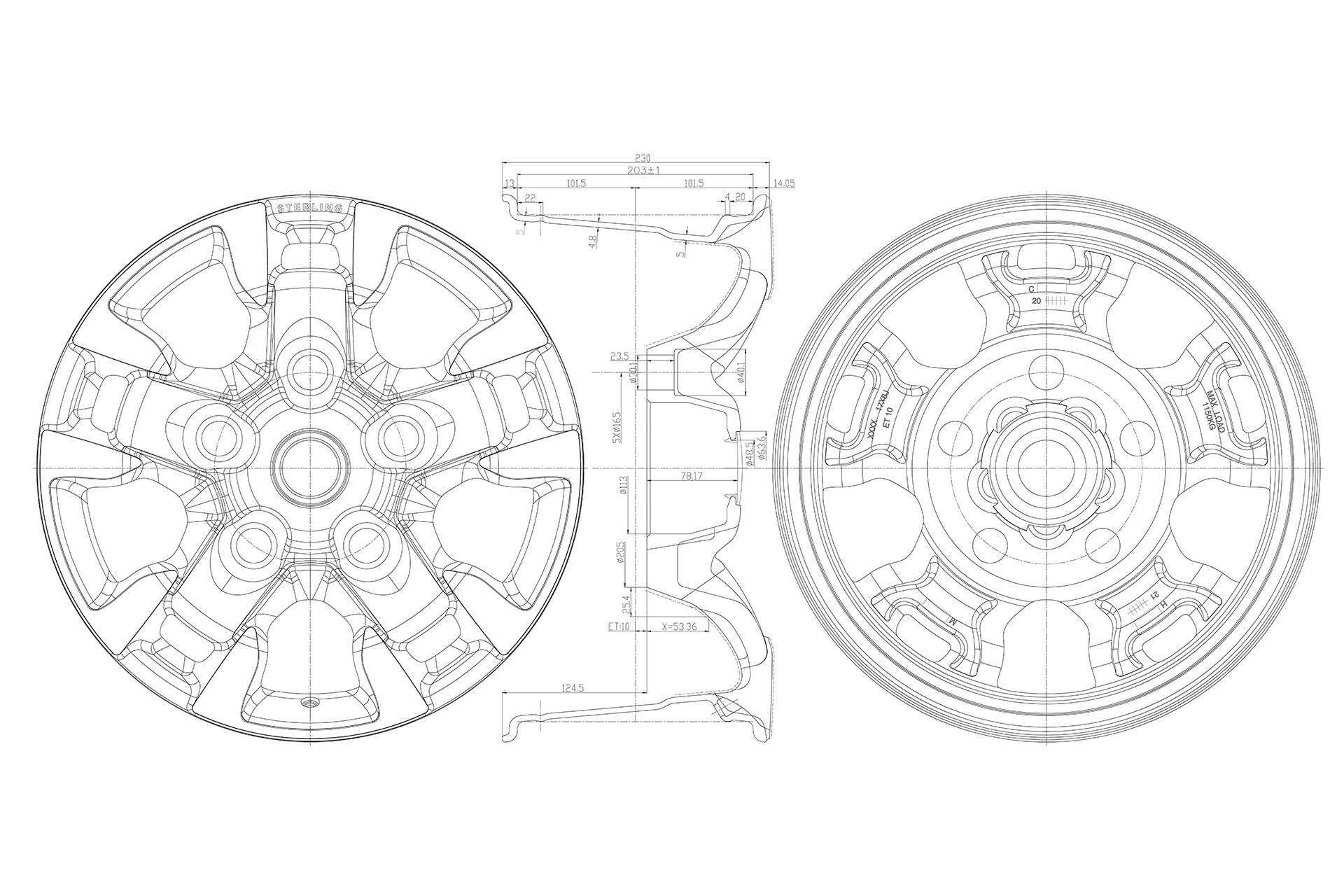 All parts are covered by the Manufacturers Warranties and/or Guarantees. Goods returned under warranty must be accompanied by a valid proof of purchase and will be dealt with accordingly. Where necessary goods will be returned to the manufacturer for inspection and report. Sterling Automotive Design Ltd can assume no responsibility for misuse or incorrect application by the user. Sterling Automotive Design Ltd will not accept responsibility for carriage costs incurred in returning goods or for any fitting costs involved in warranty items.Where goods are returned to ourselves they should be accompanied by the senders invoice and name and address and a valid authorisation number. Where goods are alleged to be defective the purchaser agrees to return such goods for inspection and report (without us replacing the said goods prior to such inspection) The purchaser also accepts that it is reasonable to inform us of any problems before contacting independent third parties and incurring extra costs. This allows us to remedy the defect failure or interruption as third parties are often biased.
Please Note: Alloy Wheels in polished or chrome finish are not covered by a warranty. This is due to the climate in the UK and salts that are used on the roads

You can write your custom liquid / html / javascript code here.